Who are we?
Mustangs! How do we hit? Hard! Click here for a great block!
1st Coaches meeting for 2014 season
It's time to get the 2014 season rolling. Our first coaches meeting will be held on February 27th at 7:30 PM. The meeting will be at TCC, in the Blackwater building, room 110. Remember that to be a Mustangs coach you must attend meetings. Important information is passed along in these meetings. Also, if you'd like to get ahead of the curve, print out the volunteer form available on the registration page on the website. These must be completed each year by every volunteer within the program. Fill it out and hand it in to Angie that evening. We look forward to seeing you there. Posted 02/11/13 12:25 PM

Skills Position Training
Champions are made in the off season. Skills position athletes need specific and proven training. Coaches Eddie Burk and Nick Mayers are offering their NCAA Division 1 experience to your athletes. Sessions are starting Sunday February 9th at 3:00 PM at the "Old" Kellam football field. Sessions will be $10 each. No contracts, just show up with your ten bucks and let's get better!
Posted 02/6/13 1:25 PM
It's Banquet Time Again!
The details for the end of year banquet have been confirmed. The annual banquet will be Feb 1st, 2014 at Ocean Lakes High School. Doors will open at 4pm with dinner being served at 5pm. There is no charge for coaches, players or team Moms . There will be a $10 cover charge for all guests.
Posted 01/7/13 11:35 AM
What A Year For The Mustangs!
The Mustangs had another fantastic year with a record of 52-15-6 overall. We once again sent three teams to Disney to represent the Mid South region and finished strong. Our Jr Midgets finished 5th in the country, our Pee Wees finished 3rd and the Junior Pee Wees finished 2nd in the nation! We are looking forward to another great season in 2014.
Posted 01/7/13 11:35 AM
Pop Warner 57th Super Bowl cover kids
Not only can we play football, but we're quite photogenic too.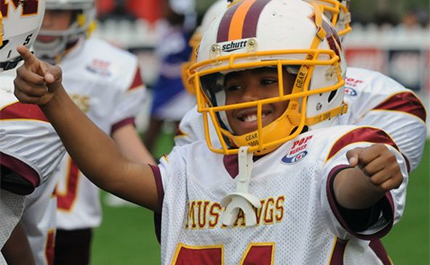 Posted 12/01/13 9:50 PM
"I'm going to Disney World"
Once again the Mustangs are sending the Division 1 represntatives for THREE different weight classes to the Pop Warner Super Bowl. The Jr. Pee Wee, Pee Wee, and Junior Midget teams are all headed to the "house of mouse". We hope to see all of you at the Wide World of Sports complex to root on our boys. If you can't be there, be sure to stay tuned to ESPN3.com for all the updates and live games.
Posted 12/01/13 9:50 PM
Congratulations to the Jr. Pee Wee 1 team
The Junior Pee Wee 1 team started thier playoff journey yesterday with a win in Hampton! They defeated the Durham Screamin' Eagles 26-9 to advance to the Mid South Regional Championships in Raleigh, NC. It'll be a whole herd of Mustangs in Raleigh once again!
Posted 11/10/13 10:30 AM
Beach Bowl was a success!
The 10th annual Beach Bowl was a great success yesterday. We saw some really good football games, with multiple overtime games! The Mustangs would like to thank all the volunteers that came out to help. Also, big thanks to the Salem and Kellam administrations for the use of their facilities. We hope to see everyone back next year for the 11th annual Beach Bowl Classic!
Posted 11/10/13 10:30 AM
10th Annual Beach Bowl Classic
November 9th, 2013 is the date! The paperwork to get your team involved can be obtained here The games will be spread out over two fields. The first is the "old" Kellam High School. That address can be found on the Field Locations page. The second field location is at Salem High School, which is located at 1993 Sundevil Drive Virginia Beach, VA 23464.
Posted 10/28/13 8:20 PM
Shoe Drive
It's travel time again for the Mustangs. In order to help raise funds for the Mustangs travel teams, we are having a shoe drive. All you have to do is bring your used casual shoes (no heels) of any size to Virginia Trophy. We are accepting shoes through November 1st, so now's a great time to clean out that closet before you get all your new fall fashions.
Posted 10/25/13 5:30 PM
Week 8 recap
The Mustangs had a good week with a 6-2-2 record. These games marked the end of the season for the Flag and Tiny Mite teams. We know you can't wait until next season to start it all over again! The Mighty Mites all have one more game next weekend, along with the PeeWee team. Congrats to the JPW teams on finishing strong, and we'll be watching your Bowl games coming up. Congratulations to the Jr. Midget team who finished their regular season undefeated, and are looking like they are going to hit the postseason in full stride. Back to school and pratice this week, and let's go Mustangs!
Posted 10/22/13 3:35 PM
Week 7 recap
The Mustangs had another good week with a 7-2 overall record. This the last week of the regular season! The weather is getting colder, but it's time to work even harder at practice for those bowl games and playoff games coming up. As always, school comes first!
Posted 10/15/13 1:25 PM
Congratulations to Jake Low on his selection to the Eastbay All-American game!
The Mustangs' own Jake Low has been selected to play at the 2014 Eastbay Youth All-American Bowl, taking place Sunday, January 5th at the Alamodome in San Antonio, Texas. Jake, who who will play linebacker for the East team, will be honored with a jersey presentation at Ocean Lakes High School prior to the varsity game this week (10/11). He will recieve his jersey at 6:45 PM. Click here for the full press release and more information about the selection process and game.
Posted 10/07/13 8:00 PM
Week 6 recap
The Mustangs had a very good week with a 7-1-1 record. Let's keep working hard and close the season strong! Keep up with your school work and we'll see you on the practice field.
Posted 10/06/13 12:35 PM
Week 5 recap
Our teams went 4-3-1 this week against some tough competition. Monday means time for school and to get back to practice this week! Let's show them how the Mustangs take care of our business and make it a clean sweep this week. Let's go!
Posted 9/30/13 10:45 AM
Week 4 is a great one for the Mustangs!
Our teams went 8-1 this week. It's hard to believe we're about halfway through the regualr seaons already. It's shaping up to be another great season for our players. Great week Mustangs, let's keep it going for the rest of the season. Take care of your schoolwork and we'll see you out at practice.
Posted 9/23/13 9:25 AM
Week 3 is the best so far!
Our teams went 8-1-1 this week. There were some really close games too! Great week Mustangs. Hope everyone had a great weekend. Now it's time to get back to work, school and practice and get ready for another great weekend of Mustang football!
Posted 9/15/13 8:25 PM
Great Article Featuring Former Mustang Tajh Boyd
Here is an article on Tajh's journey from the 757 to the starting QB for the Clemson Tigers. It was published in Charleston newspaper 'The Post and Courier'. It's a good article and really highlights this area. You might even recognize another name or two quoted in the article. The article can be found here

Posted 9/10/13 1:25 PM
Week 2 and the season is rolling along
Our Mustangs went 5-4 this past weekend. Compeition is a good thing and will help our younger players get ready for the "big boy" levels. Let's have a productive week of practice and improve that mark next week!
Posted 9/10/13 1:25 PM
Week 1 Completed and Happy Labor Day
Our first week of games have come and gone on this Labor Day weekend, and we had a great first week. Our Mustangs went 7-1-1 on the field this weekend! Even more impressive was our teams off the field. The Mustang family came together, and we want to extend our thanks to all the volunteers. We had all the chain crews and MPR monitors needed and more. Also, a HUGE shout out is deserved to all our concession volunteers. We may have been out of the concessions business for a little while, but with your help we had a very successful first week. We look to continue the trend of success all season long, and even improve where we can to make it even better. Everyone enjoy the long holiday weekend and we'll see you at practice as we prepare for the next game!
Posted 9/2/13 8:52 AM
Virginia Beach Mustangs Youth Football