Big savings on the Ryan Kerrigan camp!
ATTENTION PLAYERS AND PARENTS!!! We are receiving a $55 discount off of the RYAN KERRIGAN FOOTBALL CAMP at George Mason University in Fairfax, VA, July 16-19, 2015. Use promo code TEAM2015 to receive this discount and 2 FREE football items including cleats, gloves, and more (up to $225 value)! Deadline is FEBRUARY 1ST!!Go to the Camps page for more infomration
Posted 1/18/15 7:00 PM
Sportsmanship award for Jr. Midgets
After a successful, but not National Championship run for our Mustangs, The Jr. Midgets did earn a title. Coach Bruce's team was awarded the Brax-Pop Warner Sportmanship award. This award is given annually to a team in each division of play who demonstrates good sportsmanship both on the field and throughout the Walt Disney World Resort during Super Bowl Week. Very proud of the players who earned this award. That's the Mustang way! Read more about it HERE
Posted 12/24/14 3:00 PM
Disney Bound and Ready to work!
It's the most wonderful time of the year...for the Mustangs. Once again we are sending multiple representatives to the Pop Warner Super Bowl. The PeeWee and Junior Midgets have earned berths in the 58th Annual Pop Warner Super Bowl. The brackets were released last night on ESPN3.com and we now know who we play in the first round. If you aren't joining us in Orlando, you can follow the action on ESPN3.com. Select games will be streaming, and highlights are shown from all games.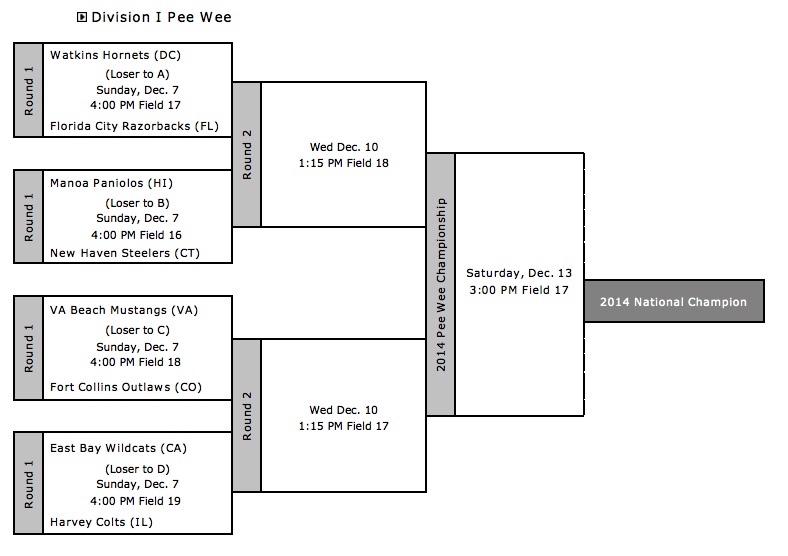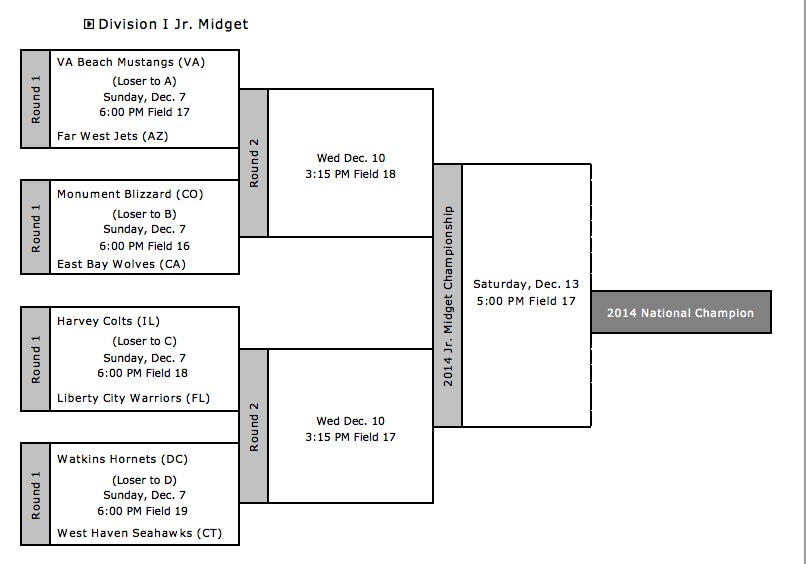 Posted 12/2/14 10:25 AM
The Beach Bowl is coming
The details for the 2014 Beach Bowl are starting to emerge. There are still details left to decide, but we do know that the Bowl games will take place on Saturday November 8th. Games will be held at Salem HS and one other feild location to be determined. Gate fees will be $6.00 per person for ages 13 and up, $3.00 for age 12 and under. There will be concessions and T-shirts avaialble for sale at the event as well. We look forward to seeing you there!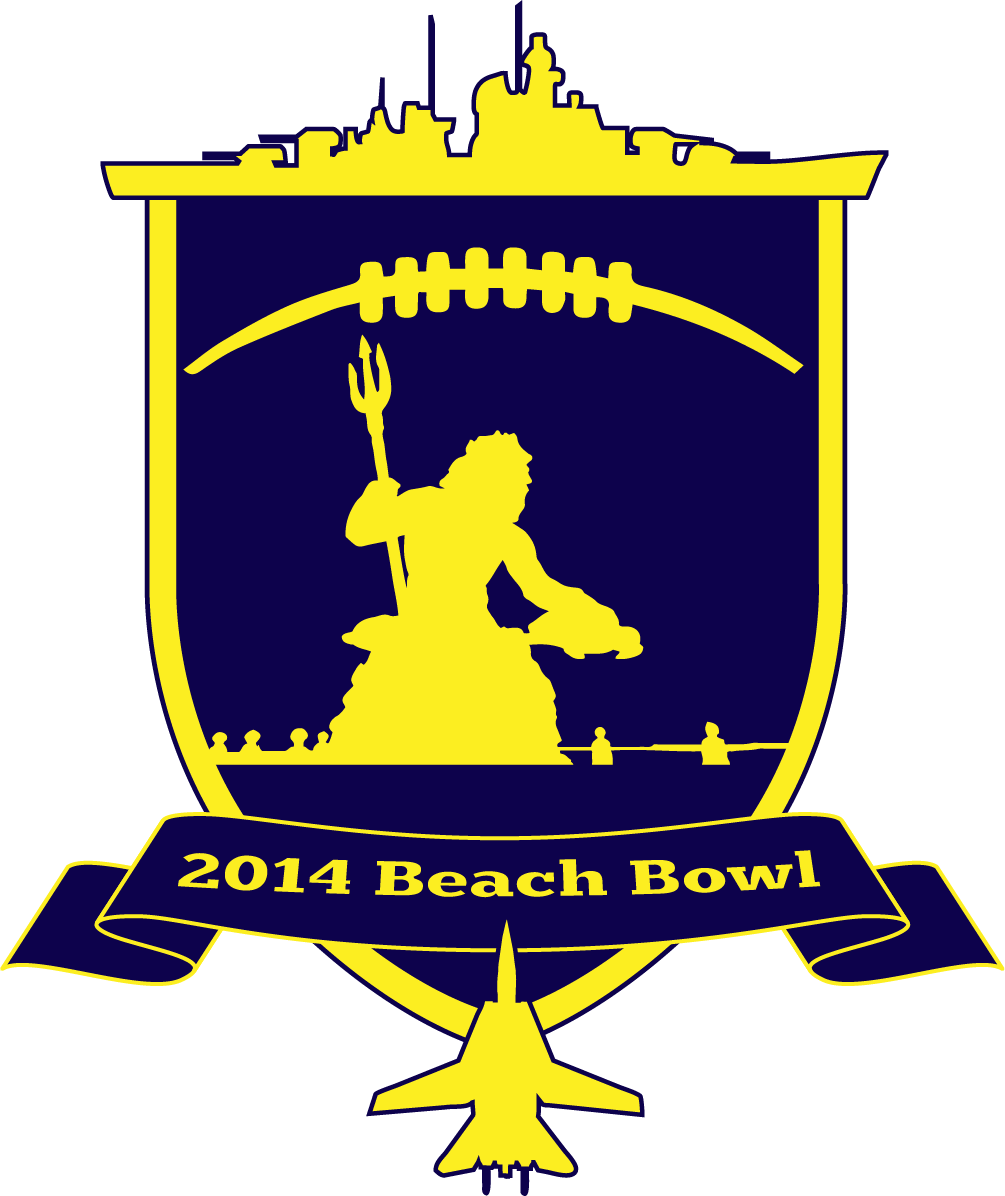 Posted 10/28/14 7:15 PM
Who are we?
Mustangs! How do we hit? Hard! Click here for a great block!
Congrats to our travel teams!
All of our travel teams had better make sure they've got their bags packed complete with alternate jerseys as we're headed on the road again! JPW1, PW and JM are all SEVA Division I champions and head into the Playoffs on quite a winning streak. Good Luck and let's keep it going to Disney!
Posted 10/25/14 4:45 PM
End of Regular Season
The Mustangs saved their best week for last the teams went 7-1 for the final week of the regular season. Great way to finish Mustangs! For those who are playing in the Beach Bowl, keep an eye on the web site for more information on the event and schedules coming up. For those who finished their season, we look forward to seeing you in the spring!
Posted 10/25/14 4:35 PM
Week 7 Update
Good week for the Mustangs overall as the teams went 6-2. There is only one week left for the Regular season. Let's finish the season out strong and get ready for the Beach Bowl in November! School, practice, Gameday!
Posted 10/13/14 10:00 AM
Week 6 Update
The scores and schedules have been updated. We only have two weeks left in the regular season. Congratulations on the teams who clinched a playoff spot this weekenn! That means there are still the Beach Bowl and playoffs for our most of teams to look forward to. Information on those items should be coming soon from your Coaches or Team Moms soon. Have a great week of school, practice hard and come to play on Saturday! Good Luch to all the Mustangs this weekend.
Posted 10/06/14 09:33 AM
Week 5 Already!
Another week of Mustangs football is in the books. Overall it was a good day to be a Mustang. Our D1 competition teams took a step towards securing their place in the playoffs with wins over the Seatack Seahawks at the Junior Pee Wee 1, Pee Wee and Junior Midget levels. Of course that means that fundraising is more important than ever, so be sure to be on your game when it comes to that! Also, there have been some minor schedule updates posted to the Schedule page. Be sure to check on your team to ensure you're up to date. Not to look too far ahead, but a few teams have games against Smithfield in a couple of weeks. Their home field has been updated in the field locations page for directions to Isle of Wight Academy for those that need them.
Posted 9/29/14 08:40 PM
Week 4 Update.
The results for the program were good for week 4. The teams overall went 6-2 on the week making this the best weekend yet! This is the midway point of the season and it looks like most teams are starting to come together very nicely. This weekend is a big one for some of our Mustangs, so let's be there to cheer them on as we're all at FC High School! The field location page has been updated with a map to the the school in case anyone is unclear on where that is. See you Saturday. Just bring it!
Posted 9/15/14 01:54 PM
Week 3 Update.
On the road again for week 3. The results for the program were better. We came in at 5-3 for the week. There is still room for improvement, and I know the Mustangs are working hard to get our first 8-0 record this week! We are at home this week, so let's make it happen!
Posted 9/15/14 01:54 PM
Week 2 Update.
It was great to have our first home games of the season. The results were mixed as the Mustangs went 3-4-1 on the day. The results and scores have been updated. Meanwhile, coaches are already back at the drawing board improving and we are confident we'll see improvement on the field this week!
Posted 9/11/14 10:25 AM
First weekend is in the books.
We hope everyone had a fantastic Labor Day weekend. As for the first week of the season, the results are in. The Mustangs went a collective 4-2-1 on the fist day of the season. There was a lot to like on the day. Let's continue to get better and improve each week!
Posted 9/02/14 12:11 PM
It's Finally Time
First game of the season! Time to see all the hard work from August on the field. Looking forward to another fantastic season of Mustangs football. Good luck to all our teams today. Head coaches, please send (or have one of your assistant coaches send) scores and opponent name to admin@virginiabeachmustangs.com. Don't sing it...just bring it!
Posted 8/30/14 8:00 AM
Ice Bucket Challenge for ALS Awarness
Former Mustang and current MMA fighter Bubba Jenkins called out our very own Coach Bruce in the Ice Bucket Challenge. Not only did Coach take on that challenge, but he challenged a few former and even current Mustangs out to see if they were tough enough. Watch the video on Facebook Matt Brady, Scotty McGee, Josh Proctor, Nicky Sapienza, Brenden O'Neil, Bucky Hodges, TJ costen, Turner Bishop, Jonathan Peau, David Ponder, Kelli Dawn Reid, Keith A Pearl, jimmy Allen, and Don V. Haley you have all been put on notice! Don't forget that this is all in support of ALS, don't forget to donate.
Posted 8/23/14 5:30 AM
SEVA Makeup Meeting Resceduled
The manatory meeting has been rescheduled for Tuesday 8/12 at 6:30 PM. The meeting place is still the Church of the St. Therese. Please be on time and bring a valid ID. The address of the church is 4137 Portsmouth Blvd, Chesapeake, VA 23321. Click the link for a map.

Posted 7/15/14 10:20 AM
SEVA required meeting
In order to be a coach with any Pop Warner organization in the Southeastern Virginia league (SEVA), you must attend the upcoming meeting that is being held at the Church of the St. Therese on Saturday July 19th. This meeting will review code of conduct, rules changes as well as a discussion with the area head of officiating. The meeting starts at 9 AM, but sign in begins at 8:45 AM and there is usually a line. The address of the church is 4137 Portsmouth Blvd, Chesapeake, VA 23321. Click the link for a map.

There is no known make up date at this time, so please make every effort to attend. If you do not attend this meeting, you cannot coach in Pop Warner. Please also remember that you represent the Mustangs organization while there with coaches from other organizations.
Posted 7/15/14 10:20 AM
July Coaches Meeting Monday 7/14
We are holding the July, and final coaches meetings Monday, July 14th at TCC. The meeting will be in the Blackwater Bldg., classroom CW110. Please plan on attending, as this is the last meeting before the start of the fall season. If you haven't been to a coaches meeting, you need to make this one in order to coach with the Mustangs program. If you cannot make the meeting, let Bruce know ASAP.
Posted 7/13/14 10:00 AM
4th Annual Dick's Day
On Saturday, July 26th, 2014 from 10:00 a.m - 3:00 p.m., the Lynnhaven Mall, Dick's Sporting Goods store location will be hosting the 4th annual Virginia Beach Mustangs Appreciation Discount Day to assist families and players with preparing for the upcoming football season.
Also, the Mustangs will have physicals beginning at 10:00 am as well. The physicals will be $15 (cash only) and will go until the last person in line is done. If you need a physical, get there at 10:00 to ensure you get seen. While you're there shopping, stop by the Virginia Beach Mustangs table to register to win gift certificates to Dick's Sporting Goods! To take advantage of the discount print out this coupon. If you are unable to make it during those times, Dick's Sporting Goods will still honor the discounts throughout the entire day. This is a great opportunity to not only get 20% off all of your necessary football equipment but it's a great opportunity for back to school shopping or to get 20% off that kayak or treadmill you have had your eye on.
If you are unable to make it to the appreciation day event please remember that you can click this link to print out your Team Packet football coupon sheet, which is good for discounts off your football purchases (as listed on the coupon) all season long. You will NOT be able to use the football team packet coupon in addition to the appreciation day coupon on the appreciation day.

Posted 7/7/14 9:11 AM
June Coaches Meeting
The coaches meeting for this month will be held on Thursday June 19th. It is once again at the TCC Virginia Beach campus. The meeting is in the Blackwater Bldg. Room CW110. The meeting will start at 7:30 PM. The season is getting close with only this meeting and July's meeting to go before we start the Pop Warner season, and there's lots of information to be gained. So, if you are planning on coaching with the Mustangs, you need to be at these meetings. Otherwise, you'll need to let Bruce know. Look forward to seeing everyone there.
Posted 6/17/14 9:11 AM
June Registration Special
The start of the Pop Warner season is getting closer and closer as August 1st approaches. Spring football program is moving along and you realize, it's June and you've missed the early registration date. The Mustangs are having a June registration special. From now to the end of June registration is $170. If you register online that price drops to $160. You must use the discoun code: VBMJUNE in order to get your discount. Follow the link on the top to the Registration page and get your football player or cheerleader signed up for the fall season today.
Posted 6/12/14 1:15 PM
Old Dominion Youth Camp
Old Dominion Football is having a camp specifically for athletes in grades 2nd through 8th. This camp will separate campers by age and skill so that each child gets the maximum benefit from these sessions. The camp is being held on several different dates to accommodate a variety of schedules. The sessions are $60, or you can sign up for 4 dates and pay $200 (a savings of $40). All the information can be found in the camp's flyer. The flyer is also available on our Camps page as well.
Posted 5/26/14 3:15 PM
Happy Memorial Day
The Mustangs would like to thank all veterans for their service and dedication to protecting our country. Many of you are Mustangs family as well, so we know first hand the sacrifices you make in time away from your families. We truly appreciate all that you do.
Posted 5/26/14 3:00 PM
Early Registration Reminder
Reminder! Early registration ends at 11:59PM on May 31st. Registration pages may be busy during this period, so be sure to give yourself some cushion. There will be no exceptions to the discount rules.
Posted 5/21/14 3:25 PM
May Coaches Meeting
It's time for the May coaches meeting. Once again the meeting will be held in the Blackwater building on the Va. Beach TCC campus. The room number is CE110. If you want to coach with the Mustangs, then you must attend coaches meetings. If you cannot attend, please contact Bruce to let him know. The event is also on our Facebook calendar. You can use this link to get directly to the event and click either "Join" or "Going". We look forward to seeing everyone there.
Posted 5/20/2014 12:15 PM
Mustang Elite Style Socks
Custom Mustangs Elite style socks are here! Very limited supply right now. 1 pair for $15, or 2 for $25. Contact Coach Bruce for your pair today.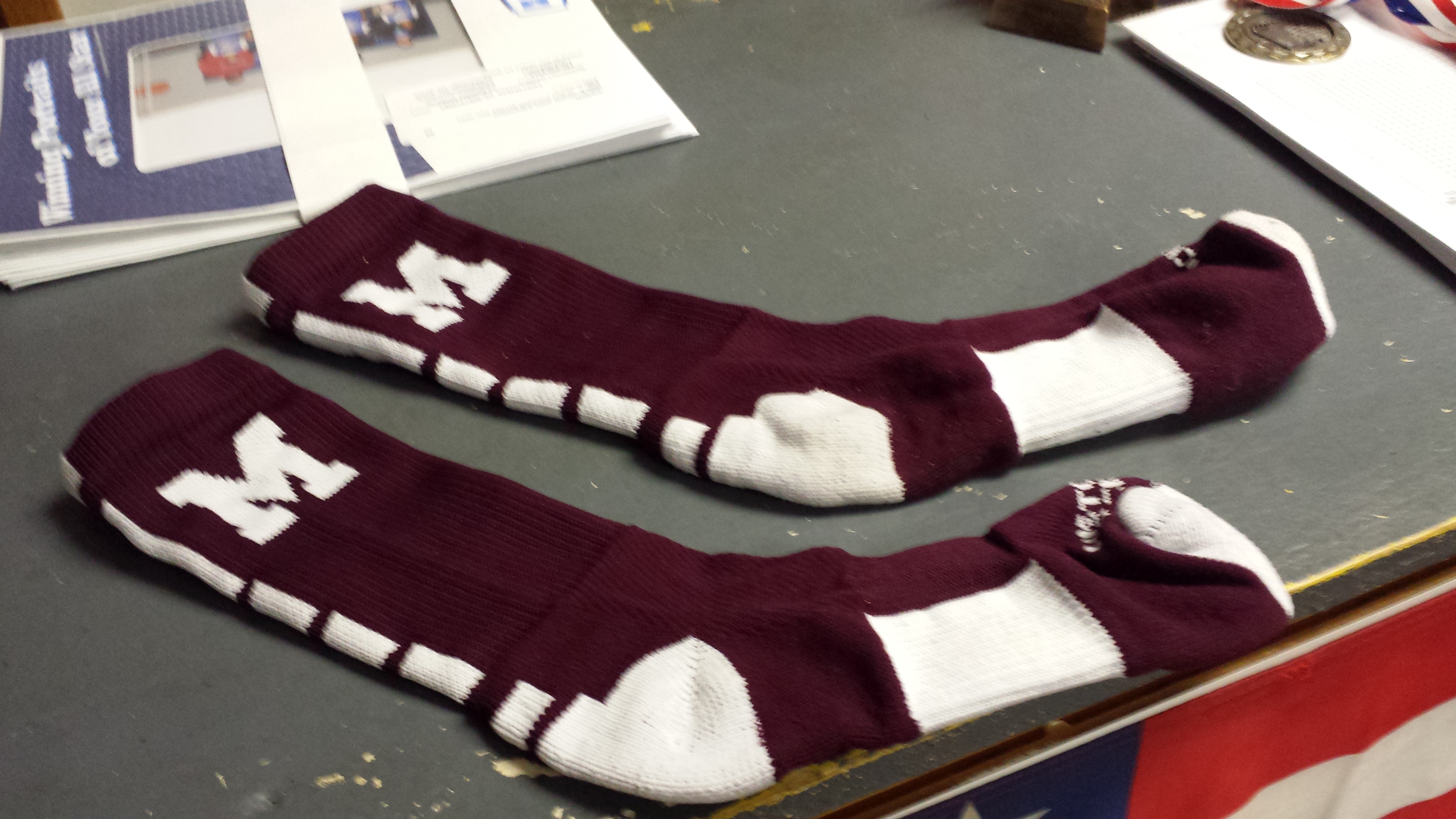 Posted 03/18/14 1:15 PM
Skills Position Training
Champions are made in the off season. Skills position athletes need specific and proven training. Coaches Eddie Burk and Nick Mayers are offering their NCAA Division 1 experience to your athletes. Sessions are starting Sunday February 9th at 3:00 PM at the "Old" Kellam football field. Sessions will be $10 each. No contracts, just show up with your ten bucks and let's get better!
Posted 02/6/13 1:25 PM
What A Year For The Mustangs!
The Mustangs had another fantastic year with a record of 52-15-6 overall. We once again sent three teams to Disney to represent the Mid South region and finished strong. Our Jr Midgets finished 5th in the country, our Pee Wees finished 3rd and the Junior Pee Wees finished 2nd in the nation! We are looking forward to another great season in 2014.
Posted 01/7/13 11:35 AM
Pop Warner 57th Super Bowl cover kids
Not only can we play football, but we're quite photogenic too.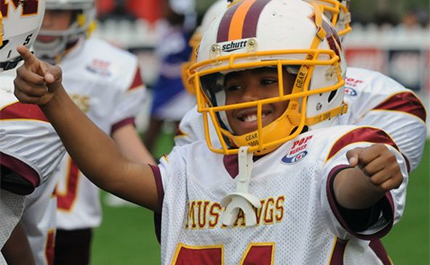 Posted 12/01/13 9:50 PM
"I'm going to Disney World"
Once again the Mustangs are sending the Division 1 represntatives for THREE different weight classes to the Pop Warner Super Bowl. The Jr. Pee Wee, Pee Wee, and Junior Midget teams are all headed to the "house of mouse". We hope to see all of you at the Wide World of Sports complex to root on our boys. If you can't be there, be sure to stay tuned to ESPN3.com for all the updates and live games.
Posted 12/01/13 9:50 PM
Congratulations to the Jr. Pee Wee 1 team
The Junior Pee Wee 1 team started thier playoff journey yesterday with a win in Hampton! They defeated the Durham Screamin' Eagles 26-9 to advance to the Mid South Regional Championships in Raleigh, NC. It'll be a whole herd of Mustangs in Raleigh once again!
Posted 11/10/13 10:30 AM
Congratulations to Jake Low on his selection to the Eastbay All-American game!
The Mustangs' own Jake Low has been selected to play at the 2014 Eastbay Youth All-American Bowl, taking place Sunday, January 5th at the Alamodome in San Antonio, Texas. Jake, who who will play linebacker for the East team, will be honored with a jersey presentation at Ocean Lakes High School prior to the varsity game this week (10/11). He will recieve his jersey at 6:45 PM. Click here for the full press release and more information about the selection process and game.
Posted 10/07/13 8:00 PM