First Coaches meeting of 2015 season
Mustangs Coaches and potential coaches. Mark your calendars for Monday March 2nd. That's the first 2015 coaches meeting. We will be meeting at the Mustangs Speed Factory. The address is 2424 Castelton Commerce Parkway Unit 707. When you come into the facility, drive straight back to the last building on the right. Second door down is the Speed Factory. Click here for a map. Meeting starts at 8 pm. Bring a chair and something to take notes. Parking is on the sides of the buildings. Park with your noses against the side of the building to allow for as many cars to fit in these space as possible.
DO NOT PARK IN FRONT OF OTHER UNITS BAY DOORS.
Posted 2/25/15 4:08 PM
Offseason work creates in season results
As many of you know, The Mustangs have opened a training facility here in Virginia Beach. The Mustangs Speed Factory is located at 2424 Castleton Commerce Parkway #707 (map) and currently runs classes for not just football, but all athletes. February classes are at 6:00 PM on Wednesdays, Fridays and Sundays for Middle School and below. High School Sessions are Thursdays and Sundays at 7:30 PM. We also offer Women's classes on Dundays at 4:30. Opportunities for private training and group training are available. Contact Bruce for more details. You can also find the factory on Facebook at Mustangs Speed Factory or by clicking the link in the sidebar labeled "Speed Factory"
Posted 2/12/15 10:00 AM
Attention Youth Football Coaches
Information has just been added to the camps page for Coach Monninger's Coach's Camp to be held at Norfolk Academy. Check the Camps page for more infomration. Also, check the Sid Pearl Award age for the 2014 season's list of winners of the award.
Posted 1/28/15 8:30 AM
Big savings on the Ryan Kerrigan camp!
ATTENTION PLAYERS AND PARENTS!!! We are receiving a $55 discount off of the RYAN KERRIGAN FOOTBALL CAMP at George Mason University in Fairfax, VA, July 16-19, 2015. Use promo code TEAM2015 to receive this discount and 2 FREE football items including cleats, gloves, and more (up to $225 value)! Deadline is FEBRUARY 1ST!!Go to the Camps page for more infomration
Posted 1/18/15 7:00 PM
Sportsmanship award for Jr. Midgets
After a successful, but not National Championship run for our Mustangs, The Jr. Midgets did earn a title. Coach Bruce's team was awarded the Brax-Pop Warner Sportmanship award. This award is given annually to a team in each division of play who demonstrates good sportsmanship both on the field and throughout the Walt Disney World Resort during Super Bowl Week. Very proud of the players who earned this award. That's the Mustang way! Read more about it HERE
Posted 12/24/14 3:00 PM
Who are we?
Mustangs! How do we hit? Hard! Click here for a great block!
Mustang Elite Style Socks
Custom Mustangs Elite style socks are here! Very limited supply right now. 1 pair for $15, or 2 for $25. Contact Coach Bruce for your pair today.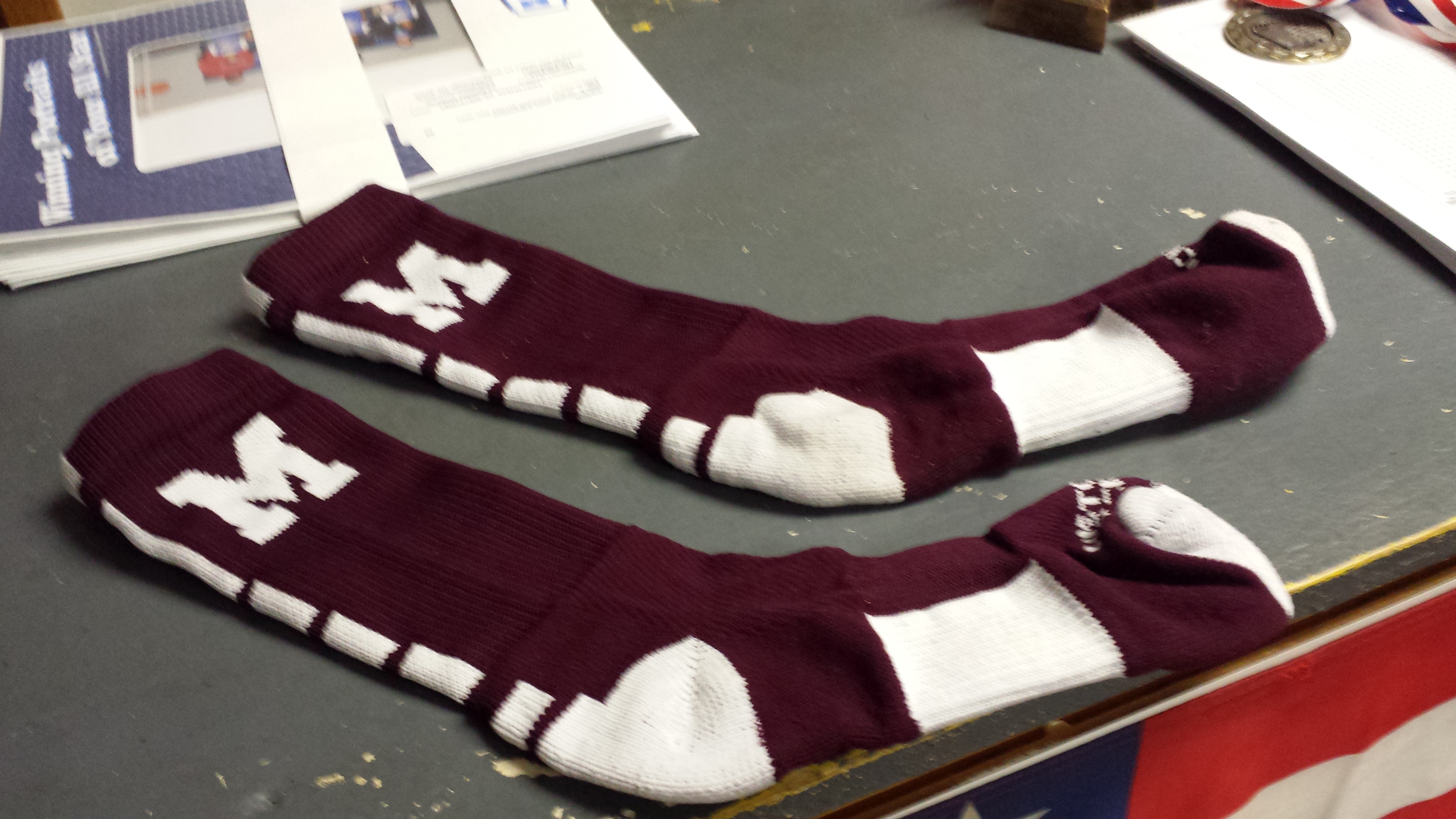 Posted 03/18/14 1:15 PM
Pop Warner 57th Super Bowl cover kids
Not only can we play football, but we're quite photogenic too.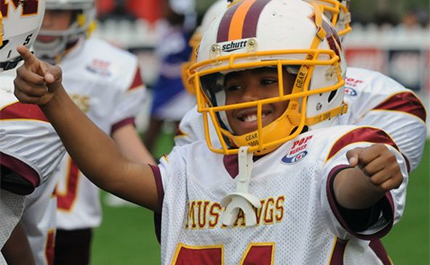 Posted 12/01/13 9:50 PM
Congratulations to Jake Low on his selection to the Eastbay All-American game!
The Mustangs' own Jake Low has been selected to play at the 2014 Eastbay Youth All-American Bowl, taking place Sunday, January 5th at the Alamodome in San Antonio, Texas. Jake, who who will play linebacker for the East team, will be honored with a jersey presentation at Ocean Lakes High School prior to the varsity game this week (10/11). He will recieve his jersey at 6:45 PM. Click here for the full press release and more information about the selection process and game.
Posted 10/07/13 8:00 PM