Who are we?
Mustangs! How do we hit? Hard! Click here for a great block!
Another great camp for young athletes
There's a great skills camp for young playters coming up over at Vec's Plex on Donna Drive. It is essentially two one day sessions. The first day is for "Skills" positions and the second day is for the OL and DL players. All campers are welcome to attend both. For a Google map link as well as all other details, check our camps page.
Posted 3/30/14 11:45 PM
Hampton Roads Youth Football Coaches Conference
As promised, here is the information on the Free coaches clinic being hosted by Norfolk Academy's Head Coach Steve Monninger. The clinic will be at Norfolk Academy's campus. A Google map link as well as all other details can be found on our camps page.
Posted 3/30/14 11:45 PM
April Coaches meeting has been scheduled
April's coaches meeting has been confirmed for April 24th. It will be at TCC in the Blackwater Bldg. in room CW110, not CE110. Meeting time is scheduled for 7:30. This is the last coaches' meeting before Spring football starts. If you are planning on coaching in spring or fall, you must show up and get the information you need as well as the required background checks to coach within the organization. We look forward to seeing everyone there.
Posted 3/30/14 11:30 PM
Mustang Coaches meeting - March 2014
The next coaches's meeting for current and potential Mustangs coaches will be held March 27th. The location is once again TCC, Blackwater Bldg. classroom CE113. Follow the link below to add to your calendar. Add all Mustangs events to your calendar. The event is also available on the Mustangs' Facebook page.
Posted 3/18/14 2:45 PM
Mustang Elite Style Socks
Custom Mustangs Elite style socks are here! Very limited supply right now. 1 pair for $15, or 2 for $25. Contact Coach Bruce for your pair today.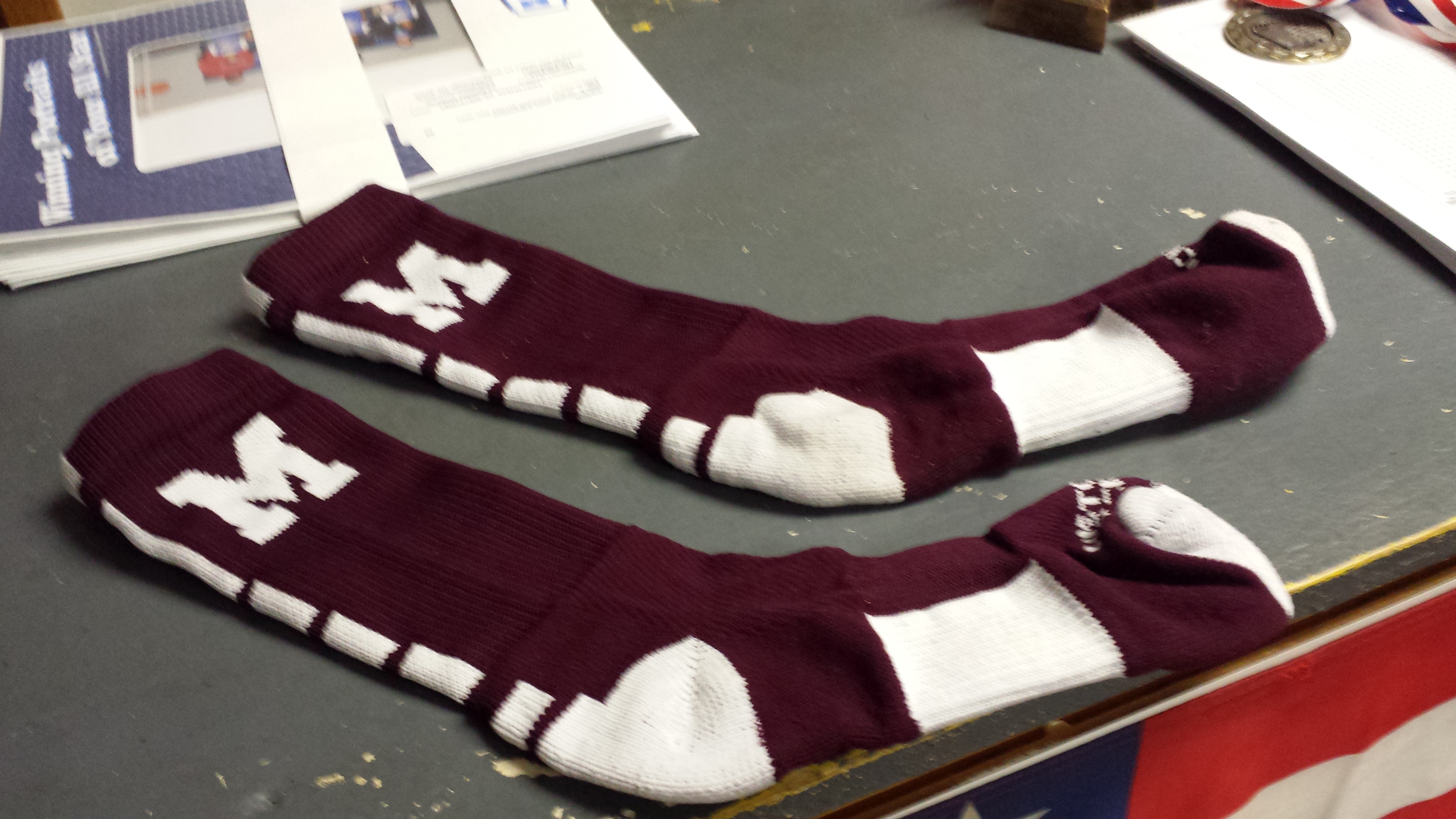 Posted 03/18/14 1:15 PM
FBU Camp coming to the 757
As many of you know, Football University is known across the country as one of the preimere youth football orgnaizations. From the Regional camps, to the Top Gun camps and culminating with the All American Bowl series. The first step in the process of getting to the All American game is to attend a regional combine. For the first time, FBU will be offering a combine right here in Virginia Beach. The combine is April 5th at the Virginia Beach Sportsplex. Full information can be found on the combine flyer. The flyer will also be posted on the Camps page.
Posted 03/09/14 4:15 PM
1st Coaches meeting for 2014 season
It's time to get the 2014 season rolling. Our first coaches meeting will be held on February 27th at 7:30 PM. The meeting will be at TCC, in the Blackwater building, room 110. Remember that to be a Mustangs coach you must attend meetings. Important information is passed along in these meetings. Also, if you'd like to get ahead of the curve, print out the volunteer form available on the registration page on the website. These must be completed each year by every volunteer within the program. Fill it out and hand it in to Angie that evening. We look forward to seeing you there.
Posted 02/11/14 12:25 PM
Skills Position Training
Champions are made in the off season. Skills position athletes need specific and proven training. Coaches Eddie Burk and Nick Mayers are offering their NCAA Division 1 experience to your athletes. Sessions are starting Sunday February 9th at 3:00 PM at the "Old" Kellam football field. Sessions will be $10 each. No contracts, just show up with your ten bucks and let's get better!
Posted 02/6/13 1:25 PM
It's Banquet Time Again!
The details for the end of year banquet have been confirmed. The annual banquet will be Feb 1st, 2014 at Ocean Lakes High School. Doors will open at 4pm with dinner being served at 5pm. There is no charge for coaches, players or team Moms . There will be a $10 cover charge for all guests.
Posted 01/7/13 11:35 AM
What A Year For The Mustangs!
The Mustangs had another fantastic year with a record of 52-15-6 overall. We once again sent three teams to Disney to represent the Mid South region and finished strong. Our Jr Midgets finished 5th in the country, our Pee Wees finished 3rd and the Junior Pee Wees finished 2nd in the nation! We are looking forward to another great season in 2014.
Posted 01/7/13 11:35 AM
Pop Warner 57th Super Bowl cover kids
Not only can we play football, but we're quite photogenic too.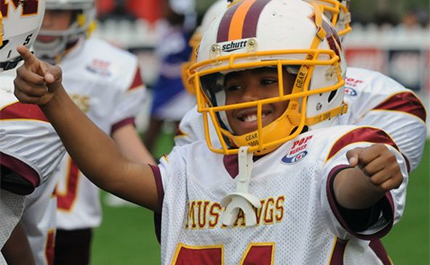 Posted 12/01/13 9:50 PM
"I'm going to Disney World"
Once again the Mustangs are sending the Division 1 represntatives for THREE different weight classes to the Pop Warner Super Bowl. The Jr. Pee Wee, Pee Wee, and Junior Midget teams are all headed to the "house of mouse". We hope to see all of you at the Wide World of Sports complex to root on our boys. If you can't be there, be sure to stay tuned to ESPN3.com for all the updates and live games.
Posted 12/01/13 9:50 PM
Congratulations to the Jr. Pee Wee 1 team
The Junior Pee Wee 1 team started thier playoff journey yesterday with a win in Hampton! They defeated the Durham Screamin' Eagles 26-9 to advance to the Mid South Regional Championships in Raleigh, NC. It'll be a whole herd of Mustangs in Raleigh once again!
Posted 11/10/13 10:30 AM
Congratulations to Jake Low on his selection to the Eastbay All-American game!
The Mustangs' own Jake Low has been selected to play at the 2014 Eastbay Youth All-American Bowl, taking place Sunday, January 5th at the Alamodome in San Antonio, Texas. Jake, who who will play linebacker for the East team, will be honored with a jersey presentation at Ocean Lakes High School prior to the varsity game this week (10/11). He will recieve his jersey at 6:45 PM. Click here for the full press release and more information about the selection process and game.
Posted 10/07/13 8:00 PM